The soft rustle of swaying palms, the gentle breeze and chirp & twitter of the countryside, make this beautiful 3 acre farm near New Chandigarh an ideal place for meaningful gatherings.
Collaborate with us for workshops, learning experiences and creative events. Choose from four unique venues for your Aura experience.
This lush green lawn is perfect for music events, open mic evenings, slam poetry and cocktail nights. It is ideal for 150 sitting and 100 floating guests. This 10,320 ft² lawn also has a Circle of Silence that makes for a perfect setting for photoshoots, or even private seating.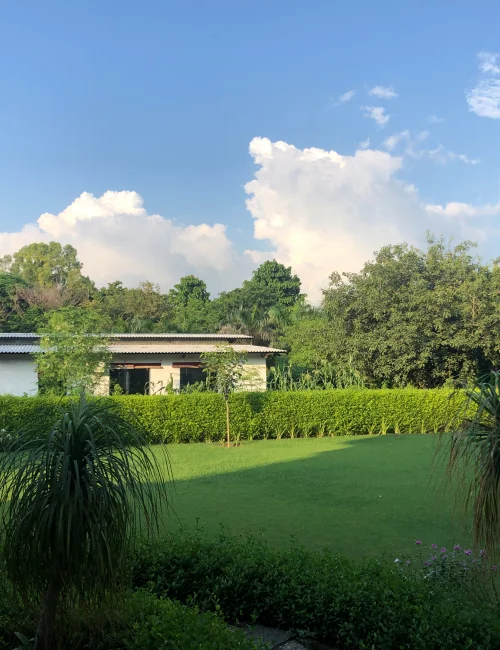 Our poolside setting of 2,250 sq. ft. is a great place to bring life to your gathering of around 100 guests. It makes for a perfect spot for a flea market, yoga workshops, movement classes, cooking workshops or wine tasting events. From a fun time in the sun to a sophisticated gathering in the evening, this venue is our bestseller.
The poolside courtyard is perfect for a small brand launch, team building event or curated food events. It is ideal for a gathering of 30 people. Our wood fire oven makes it perfect for a pizza flipping evening. This courtyard makes for an ideal spot for a barbecue party with your friends.
Your search for a cozy spot for meditation, breath work, yoga or hula hoop classes ends here! Our multi-purpose Circle of Silence can turn from a meditation spot in the morning to a fun zone by the evening. Host your group of 20 for a perfect picturesque learning experience.