An experiential space for artist getaways, and ceramic learning and appreciation.
"A sanctuary for ceramic & other artists, Aura is a place for you to escape and immerse yourself in a world of creativity and luxury."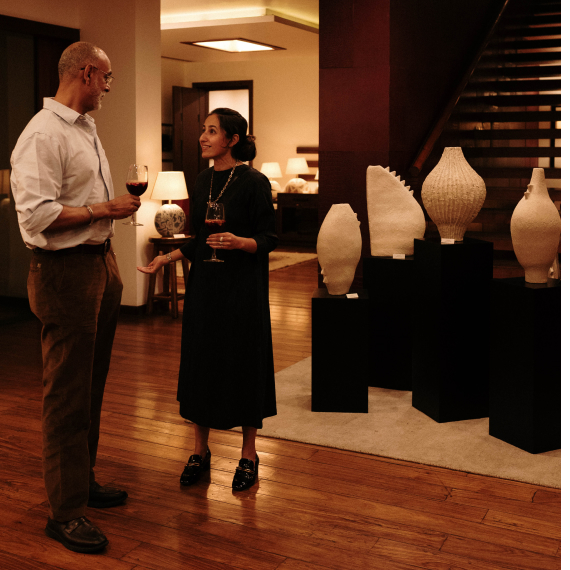 A Private Residence
Our opulent villa and your home away from home. Surrounded by lush gardens and serenity, and home to more than a hundred lifestyle ceramics handcrafetd in the studio, you can expect to immerse yourself in an elegant ambiance and unwind in utmost comfort.
The Ceramic Studio
A fully equipped studio with tools, a kiln to fire your creations and an assistant to help setting up your workspace. You might also find the artist and owner – Andy, working in her section of the studio.
Indulge in Cultural Exploration
Explore the rich tapestry of Indian culture, from visits to nearby historical sites to savoring delectable local cuisine. Our curated experiences will introduce you to the essence of India.
Personalized Attention
Our limited capacity ensures an intimate and tailored experience for you. Our dedicated team will cater to your every need, ensuring your stay is nothing short of extraordinary.
Aura Life Ceramics is a family-owned and women-led business run by mother-daughter duo, Andy & Anya who live and work in the beautiful countryside bordering the city, Chandigarh situated in Punjab. The retreats are a ceramic appreciation and learning getaway for artists and students. The fully-equipped studio and the luxurious villa provide an ideal setting to nurture your creativity then rest and relax after.